Dierya DK63 Review In Few Words (Mini Review)
For some time, I wanted a keyboard to use for entering keyboard shortcuts, one that's both small & wireless, as well. So I looked around and found Dierya DK63, which filled the gap for me. It's a great keyboard if you want something for typing & entering data without taking much space. Since it's the smallest keyboard form factor ☇ that doesn't eliminate the numbers keys like 40% keyboards do.
Dierya DK63 come in 4 switches types (Brown, Black, Red & Blue). I own the Switch brown version, which I bought last year. So this review come after using it for a good amount of time. It supports both Bluetooth & wired mode, and offers a good amount of customization options to be useful in multiple ways.
I will explain all that in details through the rest of the review~
You can buy & check out Dierya DK63 in the following Amazon & eBay links:-
#CommissionsEarned






Pros Of Dierya DK63
Compact design that doesn't take much space.
Good keyboard for entering keyboard shortcuts.
Affordable price.
Cons Of Dierya DK63
Placement of arrow keys could be annoying for those not used to it.
Specifications
Rechargeable Battery capacity:- 1900 mAh
Has many RGB Lighting Effects
Wireless effective range:- 10m.
Can be connected by wire or wireless via Bluetooth
A choice of multiple Switches (Brown, Black, Red & Blue).
Overview Of Dierya DK63
Dierya DK63 is a 60% keyboards, for those who don't know what a 60% keyboard is, it's a compact keyboard form factor ☇ that lacks the F-Keys, numpad & navigational keys. You need to press FN + any of the numbers keys to use the F keys. These keyboards sometimes come with arrow keys, and sometimes they don't. In case of Dierya DK63, the arrow keys are there.
I have written a dedicated article about 60% keyboards, which you can check out to know more about them~
One thing that annoyed me about this keyboard is the placement of the arrow keys right to the left of the shift key. It made me press the shift key instead of the up arrow key many times, since I wasn't used to that placement. Fortunately, I got used to that after some time.
Can Be Used Wired Or Wireless Mode
You can connect Dierya DK63 to your computer via USB cable, and use it just like any USB keyboard, or you can connect it wirelessly via Bluetooth. You can also press FN+R to toggle between both modes. When Dierya DK63 is in Bluetooth mode, you can connect to up to 3 devices. You can switch between the devices by pressing FN + Z for the 1st device, FN + X for the 2nd device & FN + C for the 3rd device.
Just like many mechanical keyboards, you can use a separate USB-A To USB-C in wired mode. That's good since in case the cable got damaged or anything, you could easily replace it. That also means you can buy one of those beautiful coiled cables, like this one here:-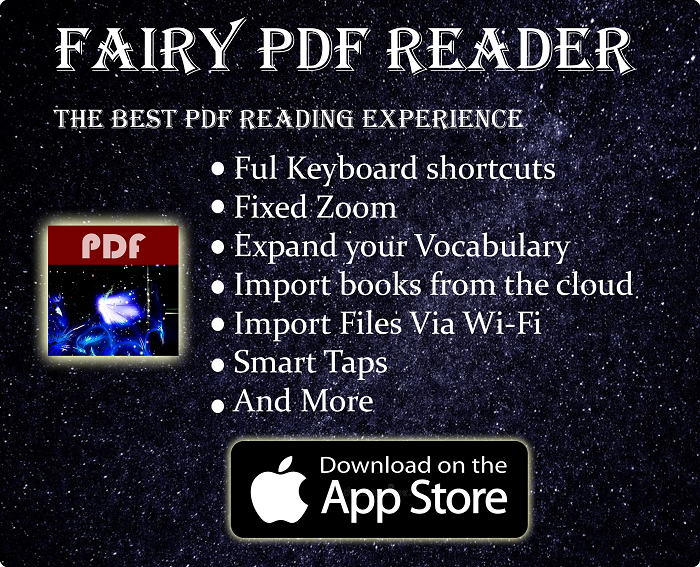 Available In Multiple Switches Choices
Dierya DK63 is available in 4 Switches types:- Brown, Red, Blue & Black. My keyboard is the brown switches version. To give you an idea on how it feels, whenever you press any key, you feel a little tactile bump, but that bump is too light compared to the blue Switches. Although it's not linear like red switches. The bump not very noticeable when you type fast.
Customizability And Software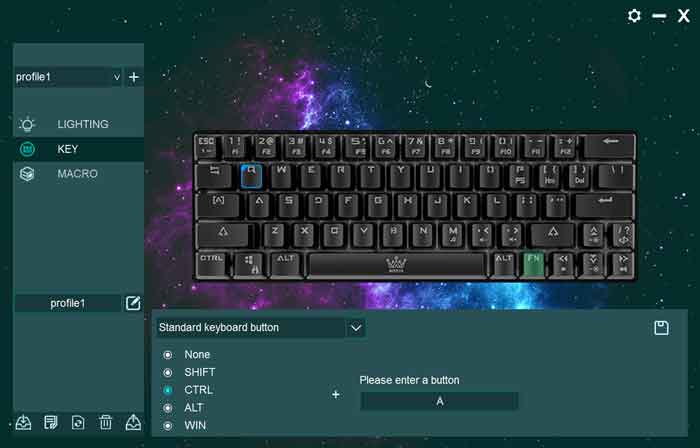 Dierya DK63's keyboard software allows you to customize any key to do any function, including mouse clicks, keyboard shortcuts & macros. Some examples you could make the keyboard do:-
Map the Z Key to E.
Map the P key to do CTRL + P instead.
Map the T key to do left mouse click.
Map the U key to run a macro (a series of key presses in a certain order).
The software allows you to create macros and assign them to any key. You can also customize the lights. You can choose between multiple solid colors or one of multiple RGB patterns. It's worth noting you could change the RGB pattern by pressing FN + ? on the keyboard itself, even if the keyboard software it's not installed.
Once you're done, the changes are saved into the keyboard firmware. That means any other keyboard connected to your system won't be affected. That makes Dierya DK63 a suitable to be used as a keyboard shortcuts device.
As far as I know, you can't customize the FN Layer, which is a shame, if you asked me.
Shortcuts Keyboards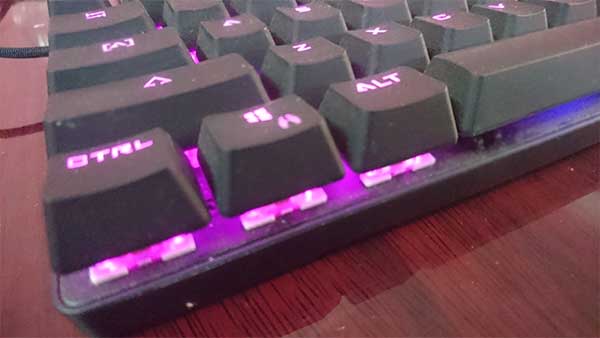 Giving its small size & customization options, Dierya DK63 is a great keyboard for artists that use a graphic tablet & want a small keyboard to use to input keyboard shortcuts. While you can literally use any keyboard for that, larger keyboards forces you to extend your arms a bit too much for that. In my opinion, 60% keyboard form factor are generally the ideal size for that purpose.
And Finally
Since I bought it, I found Dierya DK63 to be a good mechanical keyboard that's also small & affordable. My main gripe about Dierya DK63 is the lack of more customization options.
I hope my review has gave you a good idea about Dierya DK63, and that I managed to show you all its pros & cons in some depth, and see you again in another review.
You can buy & check out Dierya DK63 in the following Amazon & eBay links:-
#CommissionsEarned






See Also:-